Numark Party Mix DJ Controller with Built In Light Show
SKU:

66/PARTYMIX

UPC:

676762191715

Shipping:

Free Shipping
Frequently bought together:
Description
Buy the Numark Party Mix DJ Controller -
Free Shipping
Australia Wide
The Numark Party Mix DJ Controller is made specifically for aspiring DJ's. This is a complete controller package including a unit with controllers for two decks with sync and multiple pad modes.
Related: Numark Mixtrack Pro 3 DJ Controller
Both Virtual DJ LE and Serato DJ Lite software is included, so players can mix their music and customise their performance exactly as they want!

Got Questions? See our FAQ section at the bottom of the page.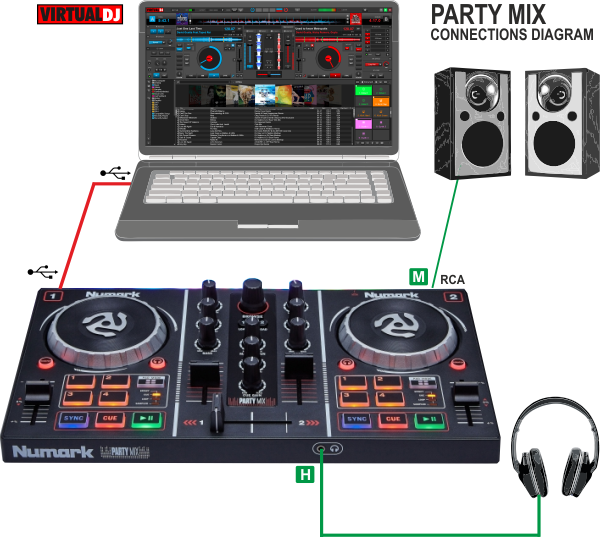 There are eight colour-coded pads with multiple modes, including looping and sampling, as part of the standard DJ feature set that also includes master and cueing audio outputs.
The Back-Lit Sync controls make mixing easy and there's a ¼-inch headphone jack so the DJ can monitor everything that's happening.
Plus, Party Mix has a built-in light show that gives any occasion that perfect party atmosphere.
This is a simple plug-and-play controller that everyone will feel comfortable with right away.
Let's get this party started!
No matter what your skill level you can get any party started with the Party Mix!
This is an amazing DJ Controller that connects directly to your laptop and lets you play and mix all of your favourite songs and videos with the included DJ software.
Mix, blend and create just the right mood with this 2-channel DJ controller that empowers you to rock the house.
Preview your mix in your headphones before you cross-fade the music to your speakers—like a pro!
With Party Mix, you can manually sync the beat (or auto sync) and blend your songs with your playlist.
With Party Mix's built-in light show you will shower the room with beat synchronised colourful light patterns, creating the perfect party atmosphere!
DJ like a Pro!
You are going to love having all the professional DJ features that come with Party Mix.
Each deck is ready with four cue points with readily accessible pads for effects. You can toggle through the Pad Mode and find your auto loop functions and create loops on 8, 4, 2 and 1-bar phrases.
You can add instant effects to your music and you can toggle through and find your sampler for access to pre-loaded samples and drums or add your own (4 on each side).
Control your EQ with treble, bass, channel gain and master gain to customise your perfect sound. All the tools are right at your fingertips.
Party Mix is a snap to use right out of the box, and it has all the deep pro features to keep up with you as your DJ'ing skills grow.
Built in audio means you have all the connections you need to send your mix of music to the speakers, while plugging in your headphones to preview the next track.
Bring on the lights!
The three built-in LED light arrays sync to your mix, flashing from the back of the Party Mix, illuminating your performance. You can leave them on or turn them off, whatever you like.
They add a cool dimension to your performance, moving to the beat, setting the perfect party mood.
Software
Party Mix includes Virtual DJ LE to make mixing your music, videos, and even Karaoke tracks fun!
You have absolute control with Party Mix on how you want to mix, blend, loop add effects and sample.
Manage your music using your iTunes playlists, or put together great playlists and create your mixes.
Numark Party Mix Features:
Party DJ Control System with audio outputs that's perfect for beginners
Simple plug and play
Virtual DJ LE software included
Built-in light show creates party atmosphere
Cool effects and multiple pad modes with looping and sampling
Sync buttons for easy mixing control

¼-inch headphone jack to preview for cueing
Outputs:
1 x RCA stereo pair (master)

1 x 1/8" TRS (headphone)

Power: via USB connection

Dimensions (width x depth x height): 12.8" x 7.75" x 2.0"

Weight: 1.75 lbs
Box Contents:
· Party Mix

· Software Download Card

· User Guide

· Safety & Warranty Manual
MINIMUM SYSTEM REQUIREMENTS
PC: Windows 7, Windows 8, Windows 8.1, Windows 10

Mac: OS X 10.8 (Mountain Lion) – macOS 10.13 High Sierra
Interested? Why not check out Party Mix Pro
Numark Party Mix Frequently Asked Questions:
What DJ software is included with the Numark Party Mix?
The Numark Party Mix includes Virtual DJ LE and Serato DJ Lite. A license code and download link are provided in your numark.com account when you register your product.
Where can I download my free copy of Virtual DJ LE?
Accessing and activating your free software is as easy as registering your product on the Numark website.
Where can I download my free copy of Serato DJ Lite?
You can download Serato DJ Lite Here. After you have downloaded Serato DJ Lite, simply plug your Party Mix in for the software to work.
Virtual DJ is only operating in a time-limited demo mode, or is asking me to pay for a license. Is there something else I need to do?
You will not have to pay anything extra to use the included Virtual DJ software. A license for Virtual DJ is indeed included with the Party Mix. However, if you forget to activate the software after installing, it will run in a time-limited demo mode, or will ask you to buy a license.
Can I scratch with these platters?
Of course! In fact some people prefer scratching with smaller jog wheels. Since the jog wheels are smaller, they have less mass and can move much more quickly and feel more responsive than larger platters to some people.
Are the performance pads velocity sensitive?
The performance pads on the Party Mix are not velocity sensitive.
Do you have to install any drivers for the Numark Party Mix?
Nope! The Numark Party Mix is class compliant on Mac OS X and Windows. Once you plug the controller in via USB, your computer will automatically detect it and you will be ready to play in just a few seconds.
Does the Numark Party Mix work with Traktor or other DJ programs?
The Party Mix is made for Serato and Virtual DJ. However, since the Numark Party Mix appears to your computer as a generic MIDI device, it can indeed be custom-mapped to any other DJ application that supports user or developer-created custom mapping.
What are the different modes for the Party Ball lights?
When activated, the Party Ball lights on the rear of the Party Mix will illuminate according to the current setting which you can choose by pressing the Party Ball Mode button.
Modes:
Virtual DJ colour-controlled (the default mode when Party Mix is powered on)

Virtual DJ beat-controlled

Fixed-timing random

All on

All off
Does the Numark Party Mix have an audio interface?
Yes! Despite its small size, the Numark Party Mix houses a fully functional audio interface for
Can I cue through my headphones while I'm playing music through the main output?
Yes you can! Simply follow these steps:
Connect headphones to the headphone output on the Party Mix controller.

Make sure that your Party mix hardware is selected and being used by Virtual DJ.

When launching Virtual DJ LE, be sure to select 'Use Soundcard' to auto-setup the Party Mix Hardware, or select Party Mix in the software under Config > Controllers.

Now, load some music onto one or both decks in Virtual DJ.

To send a cue signal from a deck to your headphones, press the PFL/Cue button to send your channel's pre-fader signal to the Cue Channel for monitoring.

The Cue Mix knob adjusts the software's audio output to your headphones, mixing between the Cue Channel and the master output.
For more information, Click Here to visit the Manufacturer's Website
View All
Close
13 Reviews
Excellent unit easy to set-up and operate great value for money a lightweight but robust unit I recommend it

Excellent unit for a beginner

Perfect for beginners, who are just starting to learn. But, if you already know the basics, then it's worth the extra money to get a better model.

This mixer is great does starters or those that want to have some fun mixing it up. It's easy to use and works really well. Great fun

NUMARK PARTY MIX DJ CONTROLLER WITH BUILT IN LIGHT SHOW

a great simple unit great for a starter DJ east to use also can be connected to VIRTUAL DJ2020
only thing to fault is the slow responce to scratch using the scratc paddles i love it its fun and great for a small area of people


Amazing little controller for the money.It does absolutely everything I want it to do and more.I would rate it at 4.5 stars especially if you add serato pro.WOW!

The best dj mix stuff ,works versatile.Recommended 100% great and fast delivery too. Anthz Perth

Have not used product yet. Bought for a christmas display.

Probably will not be in operation until end October.

Love this unit it's small and compact but it has all the features you need on it.

The decks were perfect for my 5 year old he absolutely loved them and so did his big brother

Great product

Excellent for beginners/hobbyists

Very excited son on Christmas morning. Been looking for these for a long time and it didn't disappoint. Easy to set up and he was making music within 15 minutes.

Love it n perfect
View All
Close