Shure SRH1440 Professional Open Back Studio Headphones
Full-range audio with detailed highs & rich bass
The Shure SRH1440 Professional Open Back Headphones provide full-range audio with detailed highs and rich bass in a sleek, attractive design.
Related: AKG K702 Open Back Studio Headphones
Made for mastering and critical listening, the premium padded headband with steel frame offers hours of listening comfort.
It comes included with:
Storage case

Replacement set of velour ear pads

Replacement cable

Threaded adaptor

These headphones will last for years of uninterrupted listening enjoyment!
Review:
Shure has been on fire since they entered the professional headphone market in 2010. First up were the then-new Shure SRH840 and SRH440 headphones. We really liked the way they sounded and the comfort they provided. Only a year later, the flagship SRH840 was dethroned by the WIHO Award-winning SRH940. We're still using the full range of Shure headphones in our studios today.
Shure went back to the drawing board and delivered new headphones that addressed our one request: give us some open-back models that are more appropriate for mixing. Enter the SRH1440. The results are fantastic, as they provide great fidelity, great comfort, and fantastic "real-world" sound imaging, without the ear fatigue that has plagued so many competing headphones.
In years past, headphones simply didn't sound good enough for mixing, but technology has advanced to the point where headphone reproduction quality isn't much different than a decent set of near-field monitors. Given how much mixing is done "in the box" these days, more and more engineers are turning to headphones for mixing on the go.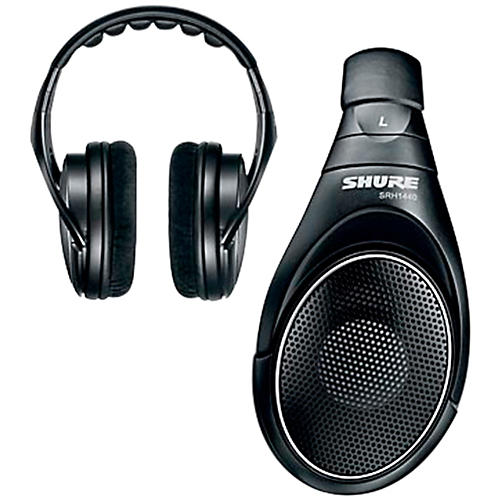 Historically, engineers have shied away from headphones for mixing because they couldn't deliver accurate enough sound reproduction across a wide enough frequency spectrum. But, advances in the use of neodymium magnets have taken headphone audio quality to previously unimaginable levels of reproduction accuracy.
These headphones are open-back models, not closed-back. This means that they do not prevent sound from the outside world from reaching your ears, and they will also leak sound from your headphones to the outside world. The nice thing about an open-back design is that it delivers a more natural, spacious, sound reproduction of your mix than closed-back headphones, which completely eliminate your room's natural acoustic properties.
These headphones were very comfortable to wear for extended periods of time, although those "hair challenged" with less natural padding on the top of their heads may need to adjust the headband slightly so the weight of the earpieces isn't pulling down on the top of your head. The design is quite sturdy, so after a little fiddling, we got the right position and things stayed in place without any problems.
The detachable cable mechanism worked well — and is something you just have to include on any headphones that get regular use, as headphone cables are more prone to damage from routine use than many other items in the studio.
Many premium headphones deliver what is known as hearing fatigue, just like some studio monitors. Listening to them for extended periods of time can lead to headaches or just an unpleasant, unsettling discomfort. These Shure headphones were not fatiguing at all, and were each well suited to long mix sessions should your client or person ambition require it.
Tracking with open back headphones, of course, is not suggested, nor is mixing on the couch while your significant other tries to watch prime-time television. They'll hear your music, and you'll hear them yelling at you to leave the room.
For "real" mixing sessions, though, these headphone worked great.
Features:
40 mm Neodymium drivers deliver full-range audio with rich, controlled bass
Open-back design for exceptionally natural sound, wide stereo image, and increased depth of field
Impedance optimised for direct connection to wide range of portable audio devices
Fully adjustable, premium padded headband with steel frame and sleek, ergonomic design for hours of listening comfort
Oxygen-free copper cable with Kevlar reinforced jacket for superior performance and durability
Dual-exit cables with gold-plated MMCX connectors provide secure connection and detachability for easy storage or replacement
Replaceable velour ear pads with high-density, slow-recovery foam for exceptional comfort

Individually tested and

sterilised

Legendary Shure durability to withstand the rigours of everyday use
Applications:
For more information, Click Here to visit the Manufacturer's Website